Save the date for the 2017 Black and Orange Gala, November 18 from 7pm-midnight at St. Mary's.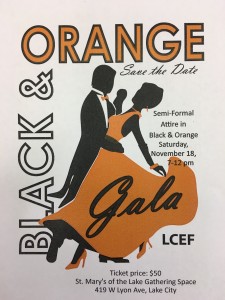 Read more about last year's gala below:
Thank you! The Lake City Education Foundation (LCEF) is excited to announce nearly $30,000 was raised at their recent event to further support the students at Bluff View Elementary and Lincoln High School. The
Black & Orange Gala
, provided the Lake City community a chance to socialize and financially pledge support to enrich the learning experiences for the students of ISD 813 through a variety of fun activities.
About 150 guests attended the event at St. Mary's of the Lake Gathering Space, November 19, 2016 at 7 p.m.
Your support, through the purchase of a $50 ticket, offers amazing hors d'oeuvres, spirits & exciting charitable giving events.
The Lake City Education Foundation is a non-profit organization that is dedicated to a mission of enriching the learning experience for the students of ISD 813.  The foundation seeks to fund and partner with projects that leverage a community partnership and demonstrate various opportunities for student engagement, by way of using different information delivery techniques to promote learning while presenting academic challenge. The Foundation also strives to fund projects that echo the school district's intentions to maximize the benefits of technology while exploring sustainable financial resources.  Funding is made possible through individual and corporate donations. To make a charitable gift, please visit lakecityeducationfoundation.org.